Orthopedic and ​Regional Anesthesia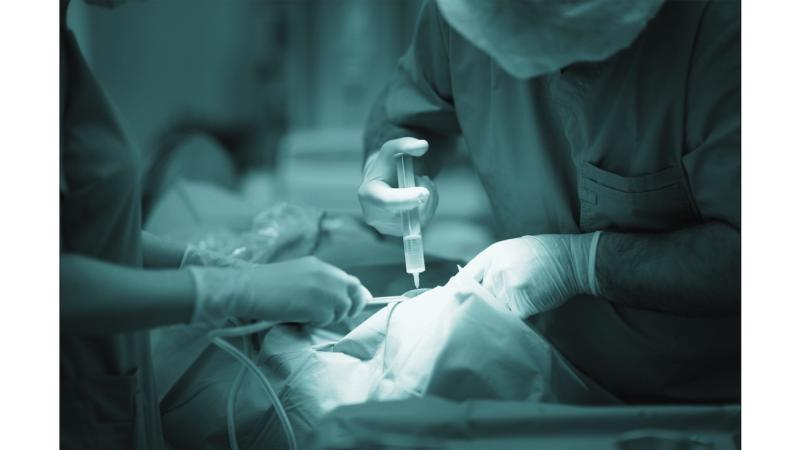 Mission
The Division of Orthopedic and Regional Anesthesia provides comprehensive anesthesia care that encompasses all forms of regional anesthesia and perioperative pain management. The majority of orthopedic surgical procedures are performed under regional anesthesia and sedation with an emphasis on pre-emptive and multimodal analgesia. The regional anesthesia faculty actively participate in preoperative, intraoperative, and postoperative pain management.
Services
The Acute Pain service is an attending-led consult service with the responsibility of pain management in the acute setting with the goal of optimizing the patient's return to function.
In addition to completing daily rounds on the Acute Pain Service, the Acute Pain attending provides coverage for all forms of regional anesthesia services including thoracic and lumbar epidural placement, truncal blocks (abdominal and thoracic), and upper and lower extremity peripheral nerve blocks for patients undergoing cardiothoracic, abdominal, orthopedic, vascular, spinal, and breast surgery procedures. The vast majority of regional anesthesia procedures are performed under ultrasound guidance.
Education
The Division of Orthopedic and Regional Anesthesia provides residency and post-graduate fellowship training covering every aspect of regional anesthesia and acute pain management. Daily faculty-led lectures are held on the acute pain and regional anesthesia rotation. Journal Club is held once a month. Self-directed learning is available through the Anesthesia Toolbox. Our faculty have played a major role in creating and developing this curriculum.
Additionally, residents and fellows have the opportunity to participate in the medical school Gross Anatomy course and gain exposure to cadaveric dissections. Teaching also takes place in the Margaret Wood Center for Simulation and Education, where residents and fellows can hone their regional anesthesia skills, practice objective structured clinical examinations (OSCE), and receive structured feedback.
The Regional Anesthesiology and Acute Pain Medicine Fellowship (RAAPM) program is ACGME-accredited. By completing the Columbia RAAPM fellowship, fellows will develop the knowledge and skills required to establish a new RAAPM program/service in their future practice. With the didactics and hands-on training fellows receive throughout the year, they are gaining the knowledge and skill set needed to succeed in the post-training environment. In addition to gaining proficiency in regional anesthesia and acute pain medicine, the main goals of the program include teaching fellows to think critically, foster effective multidisciplinary teamwork, understand principles of patient safety/quality improvement, and develop a commitment to lifelong learning.
Our faculty are national leaders and invited speakers at the ASA, ASRA, IARS, and PGA annual meetings. They serve on national committees such as the ASA Committee on Regional Anesthesia, and have leadership roles on the Anesthesia Toolbox shared online education website and the ACGME Regional Anesthesiology and Acute Pain Medicine (RAAPM) Fellowship Milestones Development group.
Research
Our research projects encompass a broad spectrum of investigation in regional anesthesia and pain management, including procedural interventions, pharmacology, and regional anesthesia education, as well as NIH-funded basic science research. Some of these projects are in collaboration with our surgical colleagues in the divisions of Orthopedic Surgery,  Plastic Surgery, and Breast Oncology Surgery. Our educational research, a major area of interest in the division, has been recognized through funding grants such as FAER. Our practice also presents us with many challenging cases, affording us the opportunity to share our experiences in the management of these cases at national meetings.