Department Leadership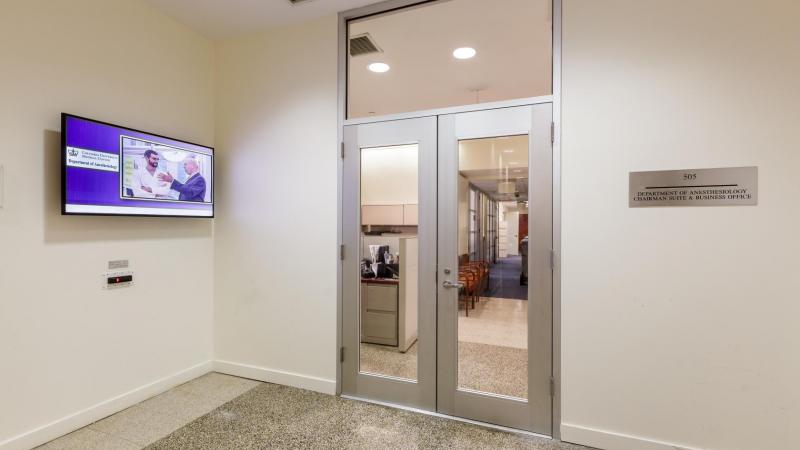 Emanuel M. Papper Professor of Anesthesiology and Chair of the Department of Anesthesiology
Dr. Brambrink received his doctorate and medical degrees from Westfälische Wilhelms-University School of Medicine in Germany and completed a residency in anesthesiology and an anesthesiology and neurosurgery fellowship in the intensive care units at the University Hospital at Johannes Gutenberg University in Mainz, Germany. Dr. Brambrink completed a clinical and research fellowship in anesthesiology at Johns Hopkins University.
Vice Chair for Adult Anesthesiology
Henrik H. Bendixen Professor of Anesthesiology and Vice Chair of Research
Dr. Emala received undergraduate and Master's degrees in Microbiology and his medical degree from the University of Maryland. After an internship in internal medicine he completed a clinical residency in anesthesiology and a fellowship in regional anesthesia and pain at Johns Hopkins Hospital. He joined the anesthesiology faculty at Hopkins and embarked on studies to understand basic G protein-coupled mediated signaling pathways that control airway smooth muscle contraction and relaxation. In 1998 he moved to Columbia University in New York and continued studies on nerve, epithelial and smooth muscle interactions in the control of airway tone. He elucidated the mechanisms by which some neuromuscular muscle relaxants interact with airway muscarinic receptors to precipitate bronchospasm. He currently has research interests in novel therapies to relax airway smooth muscle in bronchoconstrictive diseases such as asthma. He has been an NIH-funded investigator for 25 years and is currently a tenured and endowed professor and vice chair for research within the department of anesthesiology at Columbia University. He serves as the principal investigator for the departmental NIH T32 research training grant and is an advisor for Virginia Apgar Scholars.
Vice Chair of Molecular Neurobiology in Anesthesiology
Neil Harrison is a neuroscientist and pharmacologist. Dr Harrison became interested in how general anesthetics work in the 1980s, when these drugs were believed to work by altering the physical properties of lipid bilayers. In the 1990s, Harrison's lab showed that many general anesthetics enhance synaptic inhibition mediated by GABA. This led to a decade or so of work to characterize the actions of anesthetics on GABA and glycine receptors expressed in heterologous systems. It is now accepted that general anesthetics produce their biological effects via their interactions with membrane proteins, including receptors and ion channels such as GABA-A receptors. Harrison continues to study the roles of ion channels in controlling excitability in neurons, and their modulation during neuroadaptation to drugs of abuse such as alcohol.
Professor of Anesthesiology at CUMC; Vice Chair for Education
Vice Chair of Pediatric Clinical Affairs/Clinical Director
Robert Kazim, MD has served as Clinical Director of the Division of Pediatric Anesthesiology for the past two decades. In this role, Dr. Kazim is responsible for daily operating room activities, including scheduling, and serving as a consultative resource for our surgical and medical colleagues. In 2010, Dr. Kazim was appointed Vice Chair of Clinical Affairs and has worked closely with our department chair and hospital leadership assisting with hospital expansion into the new children's facility and the construction of the new diagnostic suite and endoscopy unit. Our operating room numbers have increased forty percent during his tenure. Dr. Kazim has a special interest in children with congenital heart disease and airway anomalies and has several publications in this area.
Professor of Anesthesiology and Pediatrics; Vice Chair for Pediatric Laboratory Research
Vice Chair of Laboratory Research
Dr. Lee received B.S.E. in Engineering Science - Bioengineering from the University of Michigan, Ann Arbor, MI in 1998 and received MD and PhD (Cardiovascular Physiology) degrees from New York Medical College, Valhalla, NY in 2004. He completed a clinical residency in Anesthesiology as well as a clinical and research fellowship at Columbia University College of College of Physicians and Surgeons. Dr. Lee joined Columbia University Department of Anesthesiology Faculty in 2000 and received university tenure in 2007. Dr. Lee's clinical interests include Anesthesia for liver transplantation and complex liver surgery. Dr. Lee's translational research focuses on the mechanisms and therapies of perioperative ischemic acute kidney and liver injury. Dr. Lee's laboratory uses multiple molecular and biochemical approaches as well as in vivo techniques to elucidate the mechanisms and protective signaling pathways involved in kidney and liver injury. Dr. Lee has been continuously funded by NIH RO1 grants since 2000. He was appointed as the director of Transplant Anesthesiology and as Vice Chair for Laboratory Research in 2009.
M. Finster Professor of Anesthesiology and Professor of Epidemiology and Vice Chair of Population Science
Guohua Li, MD, DrPH, is the Mieczyslaw Finster Professor of epidemiology and anesthesiology at Columbia University. He directs the Center for Health Policy and Perioperative Outcomes at the Department of Anesthesiology and the Center for Injury Epidemiology and Prevention at Columbia University Medical Center. He is also the founding editor-in-chief of the academic journal Injury Epidemiology. Dr. Li has published extensively in the field of injury epidemiology and prevention, including anesthesia safety, aviation safety, driving safety, and occupational safety. Dr. Li is credited with developing the decomposition equation linking injury mortality to case fatality, incidence density and exposure prevalence, the FIA score for predicting pilot survival in aviation crashes, and the multiphase method for estimating cohort effects in age-period contingency table data. Currently, Dr. Li is working on projects aimed at controlling the opioid epidemic and drugged driving, and uncovering the dynamics of injury risk and injury-disease interaction during the process of aging. He serves as the principal investigator for the Longitudinal Research on Aging Drivers (LongROAD) project, a multicenter prospective study of the trajectory, determinants, and mechanisms of driving safety in older adults. Dr. Li was the recipient of the Kenneth Rothman Epidemiology Prize, the Guggenheim Fellowship, the John Paul Stapp Award from the Aerospace Medical Association, and the Excellence in Science Award from the American Public Health Association's Injury Control and Emergency Health Service Section.
Associate Professor of Anesthesiology; Anesthesiology Residency Program Director
Dr. Mulaikal completed both her anesthesiology residency and fellowships in our department. She is a member of the Adult Cardiothoracic Anesthesiology and Critical Care Divisions. Her clinical practice is dedicated to the management of patients undergoing open heart surgery and recovering from post-cardiotomy shock. She has a clinical interest in the use of mechanical circulatory devices and the ethics of end of life care in this era of technological innovation. Since joining our faculty in 2013, Dr. Mulaikal has demonstrated her passion, dedication and commitment to education in our department. She has held several leadership positions in education, has experience designing and implementing innovative educational programs, and exploring evaluations methods. This has included creating the PGY-1 curriculum, developing an educational bootcamp, and restructuring the clinical clerkships based on resident feedback. She also facilitated the first and second annual mock OSCE in our department. On a national level, she is an American Board of Anesthesiology question author for the critical care board certifying examination. Dr. Mulaikal is highly dedicated to providing an engaging educational experience for our trainees and developing the next generation of leaders in our field.
Emanuel M. Papper Professor of Anesthesiology and Pediatrics and Executive Vice Chair
Dr. Lena S. Sun is E.M. Papper Professor of Pediatric Anesthesiology, and Professor of Anesthesiology, and Pediatrics, the Chief of Pediatric Anesthesiology at Columbia University Medical Center. Dr. Sun is board certified in Anesthesiology, Pediatrics and Pediatric Anesthesiology and is the Chief of the Division of Pediatric Anesthesiology. Dr. Sun's research has received NIH, FDA and foundational funding support. She is the principal investigator of the multi-site Pediatric Anesthesia & NeuroDevelopment Assessment (PANDA) study, which examined the long-term neurodevelopmental outcome in children who had early childhood anesthesia exposure. Dr. Sun is a Councilor-at-large of AUA and was recently appointed as the Medical Director of SmartTots, a public private partnership between the FDA and IARS , that supports and advocates for research that will make anesthesia safer for infants and children.
Professor of Anesthesiology at CUMC; Vice Chair for Faculty Development; Vice Chair for Student and Trainee Clinical Research