Residency Program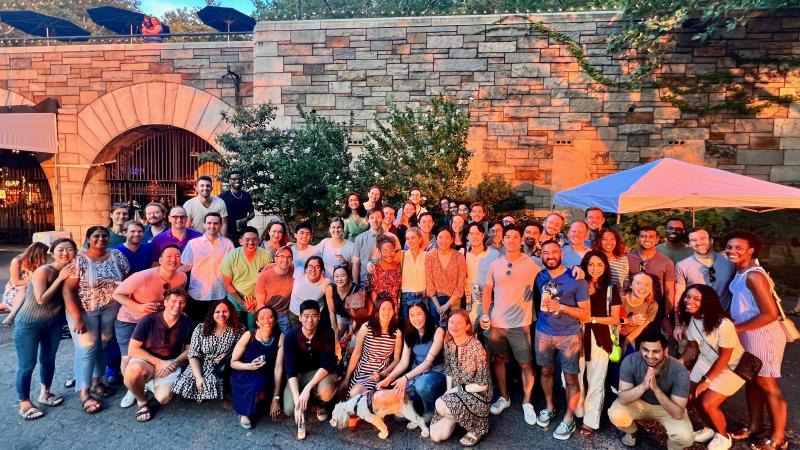 Mission and Goals
Our Mission
To be the top anesthesia training program in the nation.
The mission of the Residency Program of the Department of Anesthesiology at Columbia University Medical Center is in line with our institutional tradition of excellence in education, research, and patient care. We strive to create opportunities for growth and innovation in these domains. Our program builds the knowledge and the skills of our trainees to provide the most compassionate, excellent patient care. Our graduates are empathetic physicians, leaders in our field, and are committed to advancing health care for all.  
Our Goals
The goal of our program is to establish a respectful and supportive learning environment for our trainees, to provide resources needed for their success, and to promote their professional growth and personal well-being.
Our Commitment
Our workplace is a welcoming and inclusive environment where all members feel they belong and are supported in their professional and personal lives. We are committed to fostering an environment where everyone is treated with respect, where diverse opinions are heard and valued, and where members feel empowered to bring up concerns.
We hold as core values the respect of self and others, integrity, and fairness. With a conscious commitment to integrity in all our endeavors, our program prepares physicians to provide patients with safe preoperative, intra-operative, and postoperative anesthesia care. We affirm our intentions as follows.
To foster a culture of shared responsibility that ensures that all patients requiring anesthesia, critical care, and pain medicine are cared for with empathy and dignity.
To educate, mentor, and inspire residents while allowing them to explore norms and innovate change.
To encourage self-directed learning.
To provide opportunities for scholarship while demonstrating high ethical standards in research settings.
To cultivate an environment of clinical and scientific inquiry, intellectual curiosity, and progressive professional development.
To train future leaders in anesthesiology who value the highest standards of clinical excellence.
To continue pioneering diversity in our specialty and the field of medicine.
To model balanced personal and professional lives, resilience, and joy in the profession of medicine.
---
A Message from Our Education Division
We are the proud home of a legacy of leaders in anesthesiology, including the founder of our Department, Dr. Virginia Apgar, who devoted her career to neonatal resuscitation in the creation of the internationally renowned Apgar score.  Dr. Apgar was the first female to be appointed Professor at Columbia University College of Physicians and Surgeons.  In her spirit, we are shaping the future of our field and redefining modern medicine with innovations in clinical and basic science research.  As a resident at Columbia, we will cultivate your talents and challenge you to become a compassionate physician, skilled clinician, and creative leader in the field.  We offer outstanding, unique training.
Our regional and obstetrics divisions are pioneering education simulation research, and you will be part of this effort.  Our pediatric division led the Pediatric Anesthesia Neurodevelopmental Assessment (PANDA) study, which examined the effect of general anesthesia on healthy children's cognitive development.  Our surgical and cardiothoracic intensive care units are closed and directed by our department.  Our hospital is one of the leading in the nation in the field of interventional cardiology and cardiac surgery, and you will join this group in interdepartmental collaboration during the perioperative period.  Our pain team offers a broad exposure to multidisciplinary interventions, with behavioral therapy and other holistic modalities such as nutritional care and acupuncture.  We believe wellness and balance are part of creating the best version of yourself, and these principles are integrated throughout the residency. For an introduction to who we are, enjoy this video interview with our director, Dr. Teresa Mulaikal. We look forward to meeting you and to training the next generation of leaders in anesthesiology.  
Maya Jalbout Hastie, MD, EdD

Teresa A. Mulaikal, MD

Residency Program Director

Julia Sobol, MD

Associate Residency Program Director

Brian Egan, MD

Associate Residency Program Director

Teeda Pinyavat, MD

Associate Residency Program Director

Lydia Miller, MD

Assistant Residency Program Director; Director PGY-1 Year