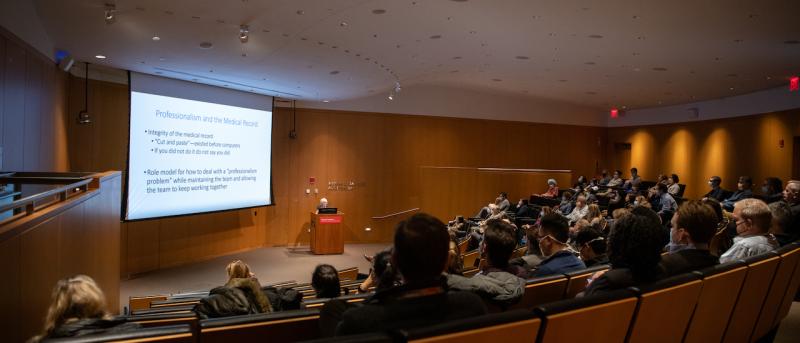 The Department Welcomes Dr. Margaret Wood as 2022 Papper Lecture Speaker
The faculty and staff of the Department of Anesthesiology were delighted to welcome Margaret Wood, MBChB, FRCA, as guest speaker at the 2022 EM Papper Endowed Lecture in Anesthesiology. Dr. Wood was introduced to the audience by Lena Sun, EM Papper Professor of Anesthesiology and Executive Vice Chair of the department.
The lecture, "Professionalism in 1970 and 2022: Then and Now," was followed by a reception at the Riverview Lounge. The previous evening, Dr. Wood and members of the department and the CUIMC community gathered for a festive dinner at the Faculty Club; see the gallery below.
Dr. Wood, EM Papper Professor Emerita of Anesthesiology and Chair Emerita of Anesthesiology, is a leader in anesthesiology care, education, and research. She was the first woman to chair a clinical department at CUIMC. During her tenure, she significantly expanded the department's residency program, instituted the use of simulation as a teaching tool, reorganized the department into subdivisions, and created the renowned Apgar Scholars Program.
Ansgar M. Brambrink, MD, PhD, EM Papper Professor and Chair, says that Dr. Wood "materially and symbolically shaped the department for future challenges…I know of no parallel to her extraordinary foresight in clinical care and education in anesthesiology and perioperative medicine." In 2016, after more than 20 years as chair, Dr. Wood stepped down and is now a special lecturer and mentor at Columbia.
Dr. Emanuel M. Papper created the Department of Anesthesiology at Columbia in 1952, becoming its first chair on January 1 of that year. As department chair until 1969, he devoted his life and career to anesthesiology as its own discipline, with an evidence-based practice that made surgery safer for patients. The department has two lecture events each year in honor of his legacy.
Photos courtesy of Crystal Rui, MD