Global Community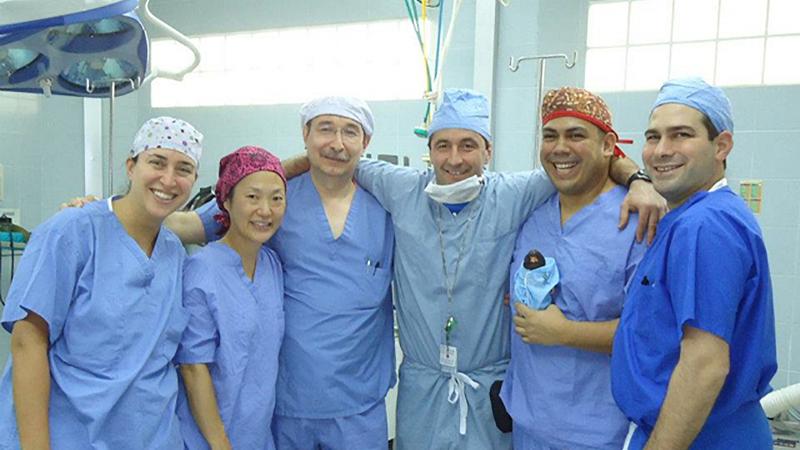 "It's the best thing that I do."
The Department of Anesthesiology at Columbia University Medical Center (CUMC) takes great pride in partnering with a number of humanitarian organizations here at home and worldwide to deliver much-needed medical care to underserved populations. We recognize the importance of our role as a global leader in anesthesiology and encourage our faculty to participate in programs that help provide access to lifesaving procedures for communities in need as part of our overall mission.
Here are just a few of their stories.
Global Community Outreach Locations
Richard Raker, MD
Associate Professor of Anesthesia at CUMC
Dr. Raker has been a team member of several nonprofit organizations and has provided anesthesia care for children and adults with cleft lips and palates, congenital and traumatic facial deformities, burns, and congenital hand abnormalities in Africa, South East Asia, Haiti, Central and South America, and the Middle East.
Julia Sobol, MD, MPH
Director, Global Anesthesiology Fellowship
Dr. Sobol worked on several short cleft lip/palate medical trips to Nicaragua, Bolivia, and Thailand, a longer maternal-health mission to Nigeria with Doctors Without Borders, and an education-focused outreach in Malawi with Health Volunteers Overseas. These trips have benefited patients who lack access to care as well as helped providers in enhancing their knowledge and skills.
To continue to improve patient care, provider education, and the development of research in areas of need, Dr. Sobol is currently developing a Global Anesthesiology Fellowship for those interested in becoming leaders in the field of global health. Applications for the 2018-19 academic year are now being accepted.
William S. Schechter, MD, MS, FAAP, FAHPM, D.ABA
Professor of Anesthesiology and Pediatrics at CUMC
Director, Pediatric Pain Medicine and Advanced Care Medicine
Dr. Schechter has been actively involved with Heart Care International, a 501-3c charity originally founded by faculty here at CUMC. He has conducted recurrent short-term medical missions to Central and South America and the Caribbean. Partnering closely with local medical personnel, families, and nongovernmental organizations, Heart Care International participants provide high-quality, compassionate care while training host-country professionals to better function independently and expertly.
"We form a long-lasting commitment to our host country, patients, and families. Countries where we have participated include Guatemala, El Salvador, Dominican Republic, Peru, and Chiapas, Mexico. We continue to search for other needy areas where we may be of some help."
In addition to patient care and teaching, the organization participates in a variety of projects and clinical research relevant to providing care in a resource-poor setting.
"A number of our residents, fellows, and attendings have participated in these missions through the years and found them to be both professionally and personally rewarding, easily summed up by the comment, 'It's the best thing that I do.'"
Young Soon Kim, CRNA
Young Soon Kim has been volunteering for international medical missions with multiple organizations since 1992, providing anesthesia care to children with congenital heart defects, cleft lips/palates, burns, orthopedic problems, hypospadias, and traumatic injuries.
"It has been a tremendous experience to help needy kids and adults as well. I learn a lot from my patients, their families, their countries, and the local professionals."
Meghan Prin, MD

Dr. Meghan Prin's outreach work has been funded by the Fogarty International Center of the National Institute of Health. She has donated her skills as a clinician and educator to help improve treatment at institutions like the Kamuzu Central Hospital in Lilongwe, Malawi.
"In Malawi there is a saying, "Low is the mountain, high the expectations." This proverb guides my approach to Global Surgery."