Obstetric Anesthesiology Fellowship
Welcome from the Program Director, Stephanie Goodman, MD
Thank you for your interest in the Obstetric Anesthesiology Fellowship Program at NewYork-Presbyterian Hospital/Columbia University Medical Center. The Division of Obstetric Anesthesia at Columbia has been training fellows since the days of Virginia Apgar. Our goal is to train the future leaders of the subspecialty and prepare you for a variety of careers, both academic and private practice. The ACGME started accrediting obstetric anesthesiology fellowships in April 2012, and we were among the 12 programs nationwide to receive accreditation in that first accreditation process. Within the guidelines and requirements of the ACGME, we tailor the fellowship to suit the interests, abilities, and goals of each fellow.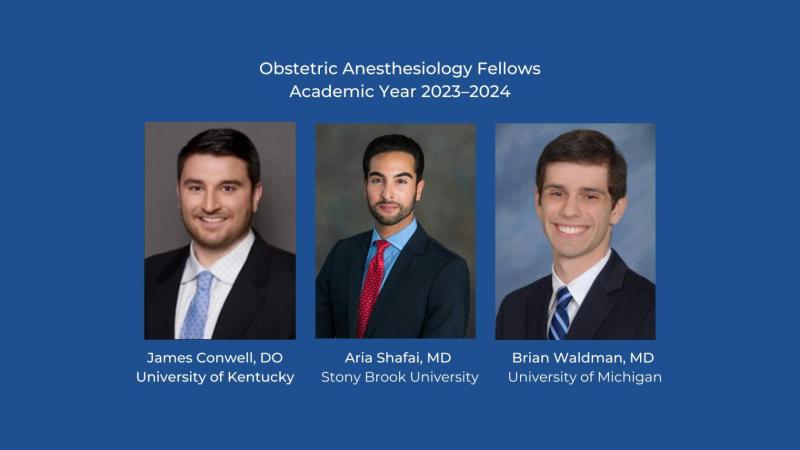 The accredited program is a one-year fellowship that combines advanced clinical training and the development of expertise in obstetric anesthesia care and teaching of both anesthesiology residents and medical students. Thirty percent of the fellow's time is reserved for clinical or laboratory research, other scholarly activities, and quality assurance. Some previous Fellows have completed two-year Fellowships in order to better prepare for high-level academic careers or complete specific research projects in the division, department and medical center and a two-year fellowship is available for interested candidates. For fellows with particular interests, there is the possibility of combining the clinical fellowship with coursework in epidemiology, biostatistics and/or clinical research study design at the Columbia University Mailman School of Public Health. It is also possible to do a second clinical fellowship in a related area such as cardiac anesthesiology, critical care, or global health.
Program start date: July 1
Number of positions available: 3
Length of program: 12 months
Individuals interested in the fellowship program must have successfully completed an ACGME-accredited residency training program in anesthesiology prior to the start of the fellowship.
We welcome applications to our program and do not require the supplementary questions on the SOAP Common Application Form.
Fellowship Application Checklist
For more information about applying to the Obstetric Anesthesiology Fellowship, please email the Program Director, Dr. Stephanie Goodman, at srg24@cumc.columbia.edu, or call 212-305-6494.